Communication IIoT Gateway with Ethernet Bridge cMT-G04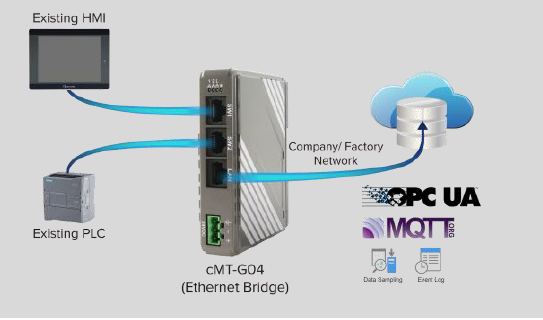 With built-in Ethernet switch, SW1 and SW2 can connect to machine network without the need for adding an Ethernet switch, which can save wiring cost. The LAN port connects to company/factory network.
Supports OPC UA and MQTT
Compact Design and DIN-rail mountable
Fan-less Cooling System
Built-in 256 MB Flash Memory
Supports MPI 187.5K
Built-in Power Isolator
Wide input voltage range : 10.5 ∼28 VDC
Equipped with two switches (SW) and one Ethernet port (LAN/WAN), cMT-G04 can function as an Ethernet switch. Simply by connecting the upper layer device (HMI/SCADA) and the exiting device (PLC) with cMT-G04's SW ports, cMT-G04 bridges the upper layer-to-device connection while being completely transparent to the system and ensures that existing operation is not affected. This is done without the need for an extra industrial Ethernet switch.
cMT-G04 can independently communicate with the devices, and convert the protocols to MQTT, OPC UA, and SQL…etc, seamlessly integrating data to IIoT. The drivers supporting bridge connection have been thoroughly tested by Weintek RD Team to ensure stable and reliable communication quality. Inheriting the design concept of cMT-G01/G02, the cMT-G04 model is as compact, power-saving, and easy-to-install as its predecessors, and at the same time retain many data analysis functions of an HMI, such as macro, data transfer…etc. In terms of software, cMT-G04 supports both EasyBuilder Pro and web setup as its predecessors, making its configuration extremely intuitive and easy.
Apart from the built-in supports for major IIoT protocols, cMT-G04 also supports Weintek EasyAccess 2.0, which not only allows remote system access but also provides push notification to mobile devices. With cMT-G04 joining the cMT Series Gateway lineup, the cMT Series will be able to assist more users in solving their system upgrade dilemma, by connecting their devices, whether new or legacy ones, to IIoT, which shall bring in incredible values to customer applications.
Features
Retain Existing Operation

: Eliminates the trouble of rewiring or buying new equipment, just plug in with the same communication cable, and the system is immediately connected to IIoT while operated in the same way.
Built-in Support for MQTT and OPC UA

: Built-in support for MQTT, OPC UA client and server. MQTT supports standard protocol, Amazon AWS IoT, Sparkplug and many other cloud platforms. OPC UA server officially certified for compliance by the OPC Foundation ensures seamless device integration in any application.
SQL Database Synchronization

:Supports synchronizing data log and event log to MySQL, MS SQL database server, for IT personnel to access data easily.
Web Configuration

:Supports configuration using web browser, making system maintenance an easy task. Available functions include: system settings, OPC UA settings, PLC communication parameter settings, data log and event log browsing.
EasyAccess 2.0 and Push Notification

: Supports the powerful remote access service EasyAccess2.0. With its push notification feature, users can receive immediate notification about system status on their portable devices.
Software Version: EasyBuilder Pro V6.01.02 or later versions