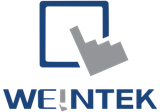 cMT-CTRL01: IIoT PLC, a Perfect Solution for Industry 4.0
As IIoT brings in the wave of Industrial 4.0 revolution, retrofitting legacy factory with smart capabilities has become trend of future manufacturing. In addition to high performance, the next generation PLC should also have powerful peripheral connectivity to fulfill IIoT demands. Responding to this trend, Weintek has integrated CODESYS and IIoT Gateway and released the IIoT Programmable Logic Controller – cMT-CTRL01.
In compliance with IEC 61131-3 Programmable Logic Controller (PLC) standard, cMT-CTRL01's built-in CODESYS supports multiple languages such as FBD/LD/IL/ST/SFC/CFC. Also, cMT-CTRL01 supports IIoT protocol standards: OPC UA and MQTT with which data from the connected devices can be uploaded to IIoT datacenter. Additionally, users can, with a license, activate EasyAccess 2.0 to update the device's CODESYS project and monitor its operation status, thus reducing maintenance costs. With EasyAccess 2.0 push notification, users receive immediate notification about the operation errors on their portable devices for quick troubleshooting.
cMT-CTRL01's control system not only has built-in support for powerful CODESYS, but also works with iR Series remote I/O modules that can be flexibly added to expand the system as the application may require.
Example cMT-CTRL01 + iR-PU01-P:
iR-PU01-P can output high speed pulses to control a servo/step motor and receive pulses from an encoder. Each iR-PU01-P is also equipped with 4 built-in Digital I/O to handle applications requiring a higher degree of immediacy. With the rich library of motion control function blocks provided for use in CODESYS, cMT-CTRL01 is a motion control solution widely applicable for packaging machines, measurement systems, printing machines, tension control, and conveyor systems.
iR-PU01-P can operate motion controls such as Positioning Control (Buffer Mode supported), Speed Control, Capture, Jerk, Homing (various methods), Digital Cam Switch (with 4 digital output), and Synchronized Motion Control. Synchronized Motion Control is achieved by specifying the ratio between the master axis (pulse input) and the slave axis (pulse output). Manual Pulse Generator (MPG), for example, is one of the synchronized motion applications.
With MODBUS TCP/IP Gateway, cMT-CTRL01 supports the protocols used by over 300 major brands of PLCs, and IIoT protocol standards: OPC UA and MQTT, making it possible to connect with a wide array of peripheral devices. cMT-CTRL01 supports data sampling and event log functions and associated historical data can be stored into SD card or synchronized to SQL database; therefore, cMT-CTRL01 can be an automation control datacenter.
cMT-CTRL01 is a cross-generation IIoT PLC which integrates IT and OT systems, making it an excellent choice for your automation control system in the IIoT architecture.