FTVersionTrak & FTVersionTrak PE V1.9.0
Product News : march 22 nd 2018
We are pleased to inform you that FTVersionTrak / FTVersionTrak PE V1.9.0 is available for download. As shown below, the enhanced features and solutions available in this new version can be used within FTVersionTrak and PLC WorkShop SuperSuites, but also restrictively within FTVersionTrak PE as part of FasTrak's PLC WorkShop Suite licenses.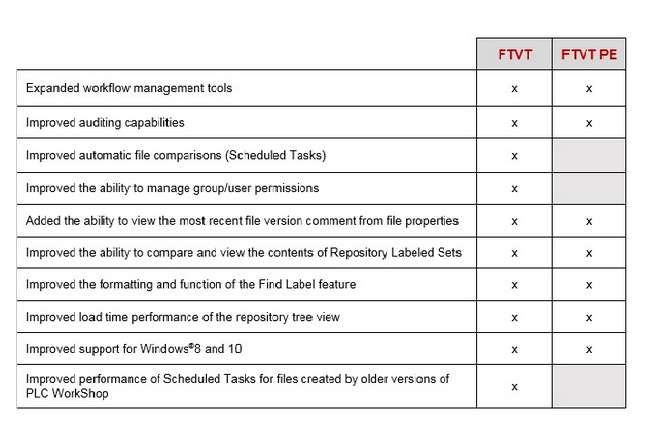 Click here to view the complete version details.
This new version of FTVersionTrak/FTVersionTrak PE, available for free download on FasTrak's website, can be immediately installed and used if your license is covered by a maintenance agreement. If maintenance has expired for less than two years, a reinstated maintenance agreement can be purchased in order to use this new software version. If you need help to determine the maintenance status of your license or if you are interested in FTVersionTrak software, do not hesitate to contact us.
Detailed information about FTVersionTrak is also available on our website by clicking here.

   Latest version now.