CMT3152X HMI WEINTEK®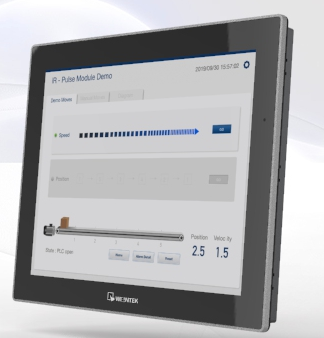 15″ 1024 x 768 IPS LCD
Quad-core Cortex-A17 CPU with High Performancededicated 3D Processor
Tempered Glass, Capacitive Type Touchscreen
Fan-less Cooling System
Built- in 4GB Flash Memory and RTC
SD Card Slot Supports SD/SDHC Cards
CAN Bus Supports CANopen Protocol
COM1 / COM3 RS-485 2W Supports MPI 187.5K,please use one at a time.
COM1 / COM3 RS-485 & CAN Bus Built-in Isolation
Built-in Power Isolator
NEMA4/IP66 Compliant Front Panel
cULus Listed
Built-in EasyAccess 2.0 License
EASY MONITORING : WEBVIEW
Without the need for installing any additional software, it is possible to monitor HMI simply using a browser on a desktop computer, or tablet.
BRAND NEW INTERFACE : WEB 2.0
The revamped web interface delivers outstanding user experience in not only configuring HMI, but also viewing data sampling and event log.
Additionally, the web access is secured with encrypted data transmission.