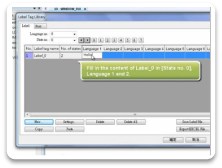 EasyBuilder Pro Configuration Software
Powerful and free configuration tool
EasyBuilder Pro is the result from 16 years of development. Even if EasyBuilder Pro is free and runs without license, Weintek® continuously improves this tool and add new features. This powerful tool simplifies HMI development and supports communication with a large range of PLC protocols : Ethernet TCP/IP (including CAMP protocol for the CTI 2500 Series® and Simatic 505® PLCs), Modbus TCP etc… With over 250 communication drivers available , you can easily communicate with your controller devices and develop your HMI projects in record time and at a very reasonable cost.
Machine or Process graphical page with extensive object libraries
Alarm and Event List
User Management with their access rights
Historical Trend Curves
Production Recipes
Multi-language support
Messaging
Simulation on the engineering PC, without panel (with or without PLC communication)
Multi-engineering through objects Import/Export between different projects
Supported Operating Systems :
• Windows XP / SP3
• Windows Vista
• Windows 7
• Windows 8
• Windows 10
Feel free to contact us for any presentation, question or to get your version : sales@napa.fr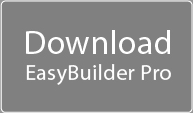 Weintek HMI and EasyBuilder Software support most of the PLC devices on the market.
Please feel free to check the drivers and supports provided. The listed are all the Weintek supported devices:

Tutorial videos of EasyBuilder Pro :
IIoT : MQTT Server
 2. Create a simple project
1. Download a project by USB / SD card
and many more :
Advanced Operations
Label Library
User-defined labels in differentlanguages can be built in advance and saved in Label Tag Library. When the relevant texts are needed, the label can be quickly selected and shown in project files.
Resize
Only with several steps, one single project can be freely executed on HMI of different display sizes. For instance, execute MT8070i project on MT8104XH HMI.
Watch the video :