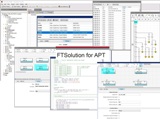 FTSolution for APT®
FTSolution for APT® allows to import, create, edit, compile, download and to debug APT-based PLC programs with a modern Microsoft® Windows® interface.
The following software options are available:
A program validation service is offered on a program-by-program basis if required for particular applications. Contact us for more information.
Download your free Demo (you will be directed to FasTrak's website)  : free Demo
Download latest Software Version (you will be directed to FasTrak's website):  Software Upgrade
Support of 2022 & later expiry dates in FasTrak single license keys