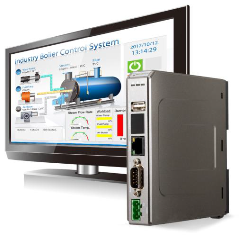 WEINTEK® mTV100 : HUMAN MACHINE INTERFACE on HDMI TV
The mTV-100 is a powerful HMI, except that it does not include a screen. Instead, an HDMI output port allows you to connect any HDMI screen of any size, with or without touch functionality. 
HD 720p High Resolution HDMI Output
Compact Design and DIN-rail Mountable
Fan-less Cooling System
Built-in 256 MB Flash Memory
SD Card Slot for Expansion of Storage
One USB Host Port
One Gigabit Ethernet Port
Supports MPI 187.5K
Built-in Power Isolator

 

HDMI output allows displaying projects on any sizes of TV / LCD monitors with HDMI interface

HMI DEVICE SMALLER, TOUCHSREEN BIGGER
The mTV-100 is so slim that it can be fitted in any control cabinet. Via HDMI I/F it can connect to touchscreen monitors,such as ViewSonic TD2220 &TD2220-2.
If you do not need the Touch Panel option, any PC screen or TV with HDMI I/F (or DVI-D with an Adapter) will fit.

COMPACT DESIGN AND DIN-RAIL MOUNTABLE
The mTV100 : easily install in any kinds of applications.
More than 300 communication drivers allow communication to many leading brands of PLC.
Configure your mTV-100 with

EasyBuilder Pro


Powerful and free configuration tool
Live scoreboards with crucial figures are now vital to help increase productivity by providing real time production information on the plant floor.
With Weintek mTV100 displaying Andon messages, machine status and real-time Key Performance Indicator (KPI) on a large overhead TV screen is easier and quicker than ever.
mTV100 collects data from your PLCs (300 communication drivers) and display them on standard, LCD, LED or plasma TVs through its HDMI port.
Macros are available for extra data calculation of KPI and other production summary data.
mTV100 can be connected via Ethernet and remotely monitored with secured protocol.